Chief manager of company
Sergey Mikhaylovich Yevel.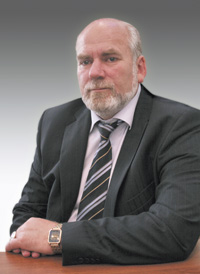 Graduated from the Faculty of Civil Engineering of Kharkov Civil Engineering Institute in 1977 specialising in «Industrial and Civil Engineering». Sergey Mikhaylovich Yevel started his career as a foreman of Kharkov Specialised Department KhSU ¹ 127 of Group «Kharkovstalkonstruksiya», and then worked as a senior foreman with the same department. He was sent on a business trip to Nigeria to take part in construction of the integrated iron-and-steel works. Since 1989 he has been continuosly working with «KhSU-127» as the Chief Engineer and the Chief of Department. In 2003 he was appointed to the position of the General Director — Chairman of the Board of Directors of JSC «Kharkovstalkonstruksiya». In October 2005 he was appointed to the position of the General Director of Association LLC «Steelconstruction».
Our company has a wide experience of construction and reconstruction of industrial and civil objects in Ukraine and abroad.
Having highly skilled employees, modern industrial base, we carry out the building and installation works on a high technological level.
We invite all to mutually advantageous cooperation in construction, reconstruction and designing of objects of any complexity.
Yours faithfully,
the General director of
LLC "Steelconstruction"
S. M. Yevel

.